Welcome to the home page of Charmaine Wilson, The Australian Medium! Feel free to bookmark our site to keep up to date with appearances, events and news. Also, please don't forget to like us on Facebook or follow us on Twitter for up-to-the-minute news and musings from Charmaine herself.
Latest News
The Healing Art of Spirit is a compassionate guide for those seeking solace after the loss of a loved one. When the world as you knew it ends, and everyone around you continues on, how will you find your new normal? Be guided to:
*Navigate the darkest days with self -compassion.
*Reframe loss with gratitude for gifts received.
*Transform Bitterness into wisdom
*Forgive the past and embrace the present
*Open your heart to those still here and
*recognise the signs your spirit folk send.
The hummingbird knows there is a sweetness hidden beneath the hard exterior of bitter experience. You, too, can discover light, laughter and happiness again.
$25 plus $5 shipping and handling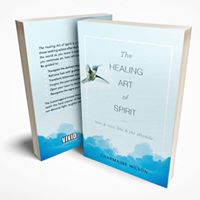 Facebook
25th of October:
SOLD OUT ~ Virtual Zoom online show
I am inviting you to attend a virtual Zoom show.
It will be formatted in the same way as my live events.
You will be the audience in the comfort of your own home and I will conduct the show by zoom.
There will be an introduction and then the readings will be done.
***Not everyone is guaranteed a reading.
I will then have a question/answer format and The last word.
Date: Sunday October 25
Time : 9.00 am QLD time
10.00 am NSW Vic TAS
9.30am SA 9.30am NT.
*The link will be emailed to you by TryBooking after purchase.
*please make sure you are in a space where you will not be disturbed.
*only one person per ticket. This will be enforced. You will have your ticket checked as you are let into the room.
*Please use the same name on zoom as is on your ticket.
*if you somehow get evacuated you will have to wait until the current reading has been completed before you will be let back into the room.
31st of December:
Merch Pack
Free Postage when you order the merch pack. You get the Healing Art of Spirit, Tattoo Oracle Cards, Meditation CD, Stubbie holder and the coveted butterfly pin all for just $90
Please allow up to two weeks for delivery.
**for International orders please contact us @ info@spiritwhispers.org for pricing.
23rd of March:
Cancelled - 2021 Redland Performing Arts Centre
This event has been cancelled, please see the venue for a refund. this link
25th of March:
Cancelled - 2021 Redcliffe Entertainment Centre
This event has been cancelled, please see the venue for a refund. this link
2nd of June:
Cancelled 2021 Bundaberg Moncrieff Entertainment Centre
This event has been Cancelled, please see the box Office for a refund. Box Office 4130 4100