Welcome to the home page of Charmaine Wilson, The Australian Medium! Feel free to bookmark our site to keep up to date with appearances, events and news. Also, please don't forget to like us on Facebook or follow us on Twitter for up-to-the-minute news and musings from Charmaine herself.
Latest News
The Healing Art of Spirit is a compassionate guide for those seeking solace after the loss of a loved one. When the world as you knew it ends, and everyone around you continues on, how will you find your new normal? Be guided to:
*Navigate the darkest days with self -compassion.
*Reframe loss with gratitude for gifts received.
*Transform Bitterness into wisdom
*Forgive the past and embrace the present
*Open your heart to those still here and
*recognise the signs your spirit folk send.
The hummingbird knows there is a sweetness hidden beneath the hard exterior of bitter experience. You, too, can discover light, laughter and happiness again.
$25 plus $5 shipping and handling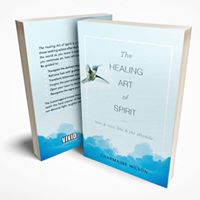 Facebook
16th of August:
Mildura Arts Centre
Show Postponed new date soon! ! Show starts at 2PM matinee' Box Office 5018 8330 or visit this link
24th of August:
Dubbo Regional Theatre
Show Postponed new date soon!! Show starts at 7:30 PM Box Office 6801 4378 or visit this link
31st of December:
Merch Pack
Free Postage when you order the merch pack. You get the Healing Art of Spirit, Tattoo Oracle Cards, Meditation CD, Stubbie holder and the coveted butterfly pin all for just $90
Please allow up to two weeks for delivery.
**for International orders please contact us @ info@spiritwhispers.org for pricing.
23rd of March:
2021 Redland Performing Arts Centre
Tickets on Sale NOW! ! Show starts at 7:30 PM for tickets call 3829 8131 or visit this link
25th of March:
2021 Redcliffe Entertainment Centre
Tickets on Sale NOW!! Show starts at 7:30 PM. for tickets call 3283 0407 or visit this link